Level the playing field with business intelligence tools for government contracts.
With the acquisition of Fedmine, GovSpend now provides access to a powerful federal business intelligence tool that allows reporting and analysis not previously possible.  Our platform is used by federal agencies, prime contractors and services firms who need a single database of key data points from multiple streams.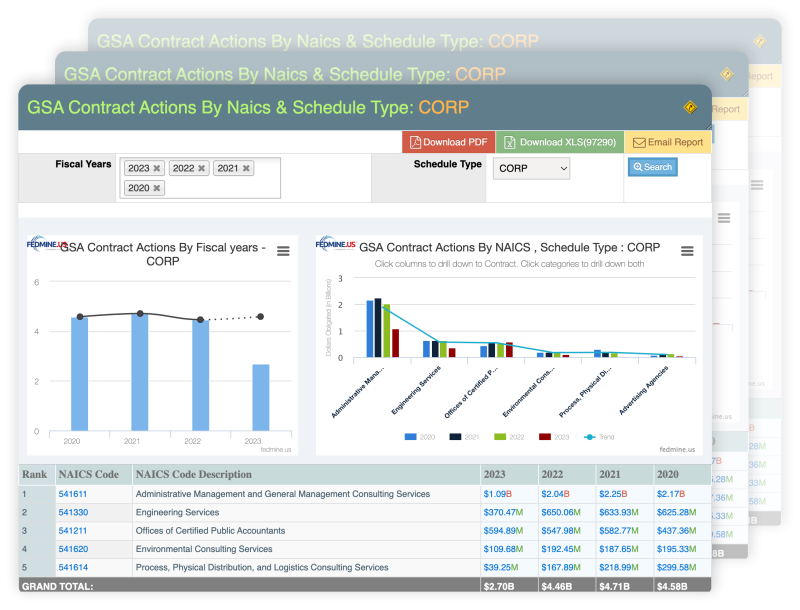 Used by companies to win new and solidify existing federal business
the Fedmine Platform offers:
Enhanced agency, bureau, and contracting office profiles

Full-featured company profiles

Collaborative pipeline reports

Subcontract awards linked to prime contracts at task- order level

Competitive analysis by agency, bureau, contracting office, DoDAAC

Robust reporting center for GWACs & IDIQs to view spend at individual task order level, with details of subcontractors
One-click reporting center for contract actions on GSA schedules across years.

Task order summary analysis, showing base and all options value, number of actions, number of subcontractors, total dollars subcontracted by subcontractor, ultimate completion date, and actions by task order and for the contract

Unlimited custom keyword and phrase searches

Email alerts on the latest re-compete opportunities, showing task orders awarded to incumbents

Sophisticated cloud-based data aggregation fully automated (no manual intervention), and dating back to 2004
Focused on providing accurate, real-time data.
Our platform collects data from 18 federal sets & sources to create a single, convenient database that places the key points you need at your fingertips. Our Contract Award Data is updated daily from FPDS.  Other data sets include opportunities from sam.gov, subcontract data from usaspending.gov, GAO Protests, mentor-protege listing to name a few.