It is the beginning of fiscal year 2024, and fortunately, a federal shutdown has been avoided, at least for now! With so much occurring in the world, whether it be on the political or economic front, it is always intriguing to observe the spend in the realm of federal contracts.
For FY 23, the federal government has awarded $627.28B in federal contracts as of 30th September 2023 to 104,164 companies.  Keep in mind that the defense agencies are subject to a 90-day delay to report their awards so we expect this number to grow.
In terms of the top agencies, no surprise to see Navy, Army, Air Force as the top three agencies, however this will change in the next 90 days!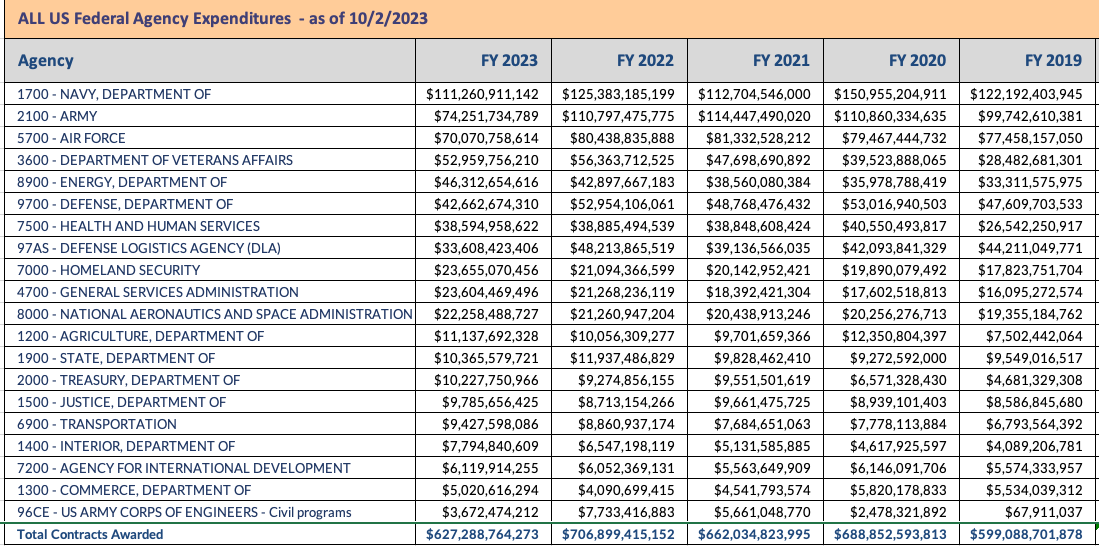 Source: Fedmine analysis of FPDS data as of 10/2/2023
The leading NAICS sectors encompass a wide range of industries, including the thriving fields of Aircraft Manufacturing, Engineering Services, Research and Development, Construction and Facilities-related services, as well as Health and Computer-related Codes.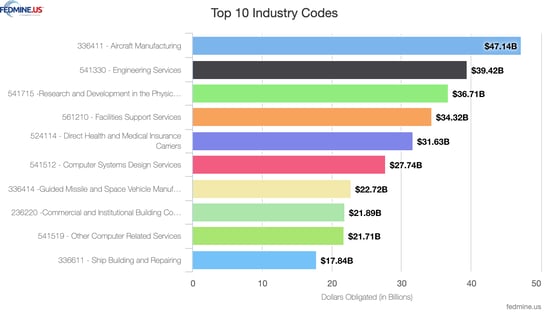 As anticipated, Virginia, Texas, California, Maryland, and the District of Columbia take the lead as the top five states in terms of place of performance.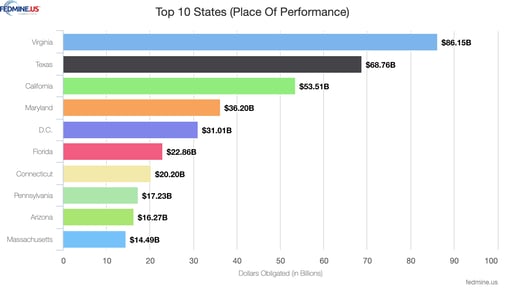 In terms of top companies Lockheed Martin, Optum Public Sector, Electric Boat Corporation, Mckesson, Humana, Raytheon, United Technologies, Triwest Healthcare, and Booz Allen are in the top 10 for FY 23.  This could of course change as the DoD awards are updated over the next 90 days.  Take a look at the full report for FY 23 for more information and insights.
21.7% of the contracts were awarded as small business (i.e. where the contracting officer determines if the awardee is a small business for that procurement) i.e. $133.56B was awarded as small business contracts to 74,660 companies.  Click here for the report that is focused on small business awards for FY 23.
Civil, Legislative, and Independent agencies awarded a total of $291.76B in contracts in FY 23, an increase of $10.3B, or 3.69% over FY 22.
Source: Fedmine analysis of FPDS data as of 10/2/2023
Several agencies experienced significant growth, with double-digit increases seen in Homeland Security, GSA, Agriculture, Treasury, and DoJ. The largest percentage increase, however, was observed in SEC, Commerce, Interior, and EPA.

Source: Fedmine analysis of FPDS data as of 10/2/2023
In FY 22 Defense agencies accounted for $425.5B in contracts awarded.  I expect once all the DoD spend data is reported the total spend by Defense agencies will be higher than the $335.5B that has been reported as of 10/2/23.   I do believe that overall federal spend for FY 23 will be more than the total spend in FY 22 of $706.9B.
FY 24 has started off well with more than $1.66B awards to 2,251 companies.  Dept. of Veterans Affairs, Treasury and Homeland Security are the top three agencies on Day 2 of the new fiscal year.
What does the future hold for FY 24 with the looming possibility of a shutdown? Only time will tell!  Stay tuned as we continue delving into the numbers!