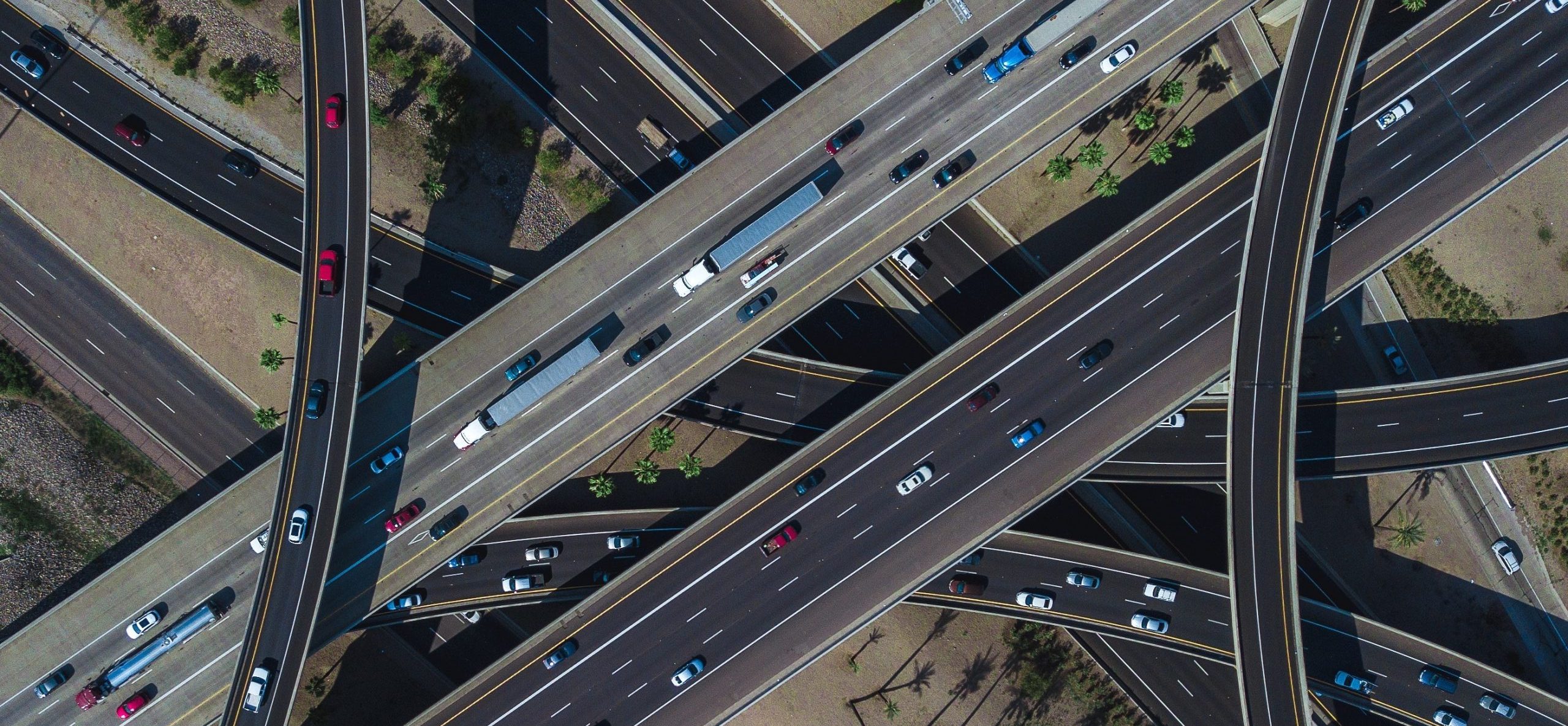 In November 2021 the Bipartisan Infrastructure Investment & Jobs Act (IIJA), a "once in a generation investment in our nation's infrastructure and competitiveness" was passed. While investing in our country's infrastructure and communities, the act also hopes to ease inflationary pressures and strengthen the supply chains by making improvements in ports, airports, rail, and roads.  It is expected that this investment will create good jobs which will help grow the economy sustainably and equitably for the future decades.
With spend expected to cross $1.3 Trillion the major programs that the legislation funds include:
Deliver clean water to all American families and eliminate the nation's lead service lines. Expected Funding is at $55 billion
Ensure every American has access to reliable high-speed internet. Planned investment of $65B through investment in broadband infrastructure deployment, and reduce the price for internet service.
Repair and rebuild roads and bridges with a focus on climate change mitigation, resilience, equity, and safety for all users. This deal makes the single largest investment in this initiative.
Improve transportation options for millions of Americans and reduce greenhouse emissions through the largest investment in public transit in U.S. history. $89.9 billion is funded for public transit over the next five years.
Upgrade our nation's airports and ports to strengthen our supply chains and prevent disruptions that have caused inflation. This will improve U.S. competitiveness, create more and better jobs at these hubs, and reduce emissions. The legislation invests $17 billion in port infrastructure and waterways and $25 billion in airports.
Make the largest investment in passenger rail since the creation of Amtrak. The deal invests $66 billion in additional rail funding.
Build a national network of electric vehicle (EV) chargers. Expected investment of $7.5 billion to build out a national network of EV chargers in the United States.
Upgrade our power infrastructure to deliver clean, reliable energy across the country and deploy cutting-edge energy technology to achieve a zero-emissions future. The $65 billion investment is the largest investment in green energy.
Make our infrastructure resilient against the impacts of climate change, cyber-attacks, and extreme weather events. Planned funding is at $50B.
Deliver the largest investment in tackling legacy pollution in American history by cleaning up Superfund and brownfield sites, reclaiming abandoned mines, and capping orphaned oil and gas wells. The bill will invest $21 billion clean up Superfund and brownfield sites, reclaim abandoned mine land and cap orphaned oil and gas wells.
The federal government has made available a few resources to help understand the funding for the major programs.  However tracking the contracts and spend can be a challenge, however, we were able to integrate the IIJA awards to provide us with the transparency into the data.
With us reaching the two year anniversary of the IIJA I thought it would be interesting to understand the actual dollars spent. No surprises that the majority of the money is awarded through grants, but I was very curious to understand the federal contracts that are funded under this act.  
Overall Spend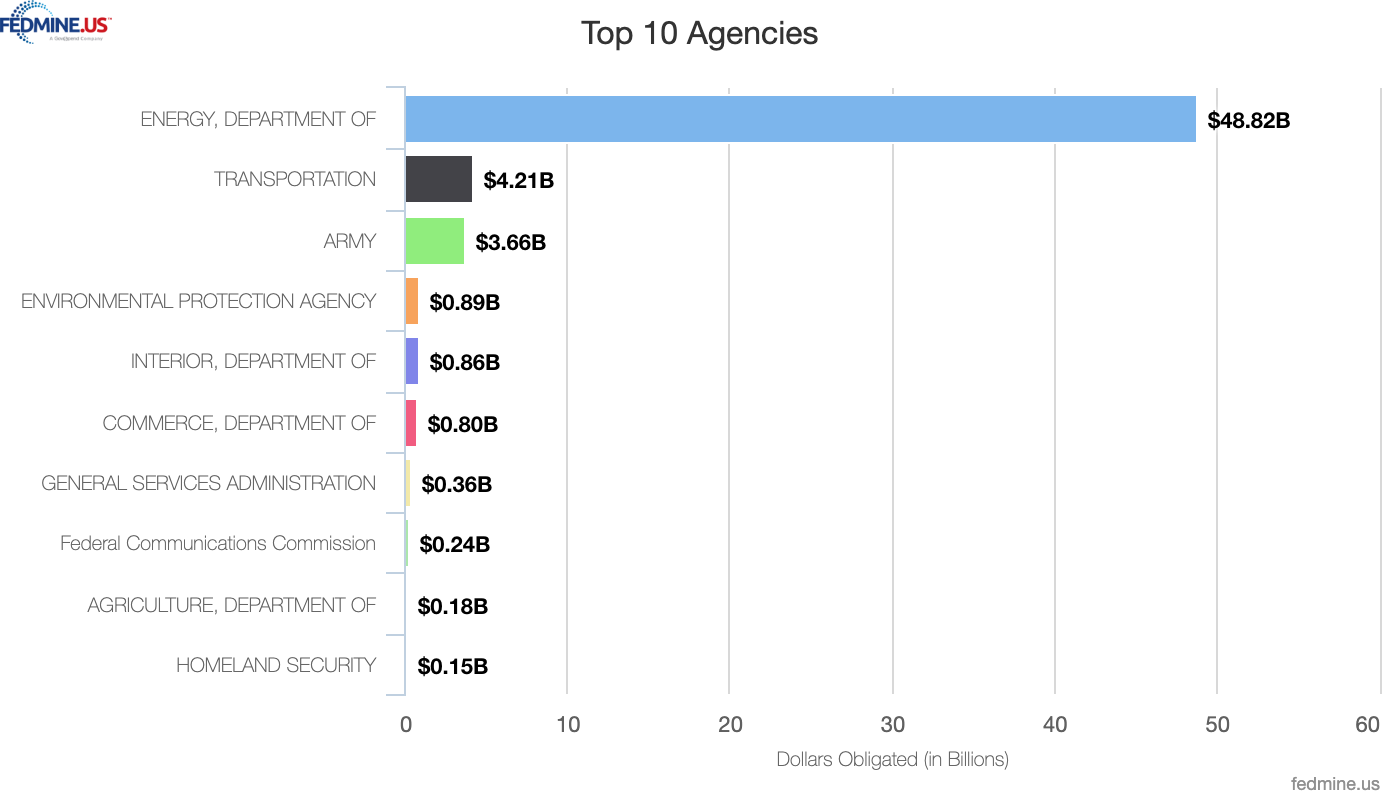 The federal government has awarded $60.17B in federal contract awards under the IIJA legislation to 2,259 companies since inception of the program.
81% of the contracts are awarded by the Dept. of  Energy followed by the Dept. of Transportation and Army that account for 5% of the total awards. Given that the Department of Energy is responsible for 81% of the total contract awards, it comes as no surprise that a 92.6% of these contracts are awarded as "Other than Small Business". No surprises either that California, New Mexico and Tennessee are the top place of performance accounting for $34.6B of the contract awards.
Prominent among the list of companies are those that have been awarded contracts for the management of various laboratories under the supervision of the Department of Energy, and include National Technology & Engineering Solutions, Battelle, Triad, and Lawrence Livermore National Security.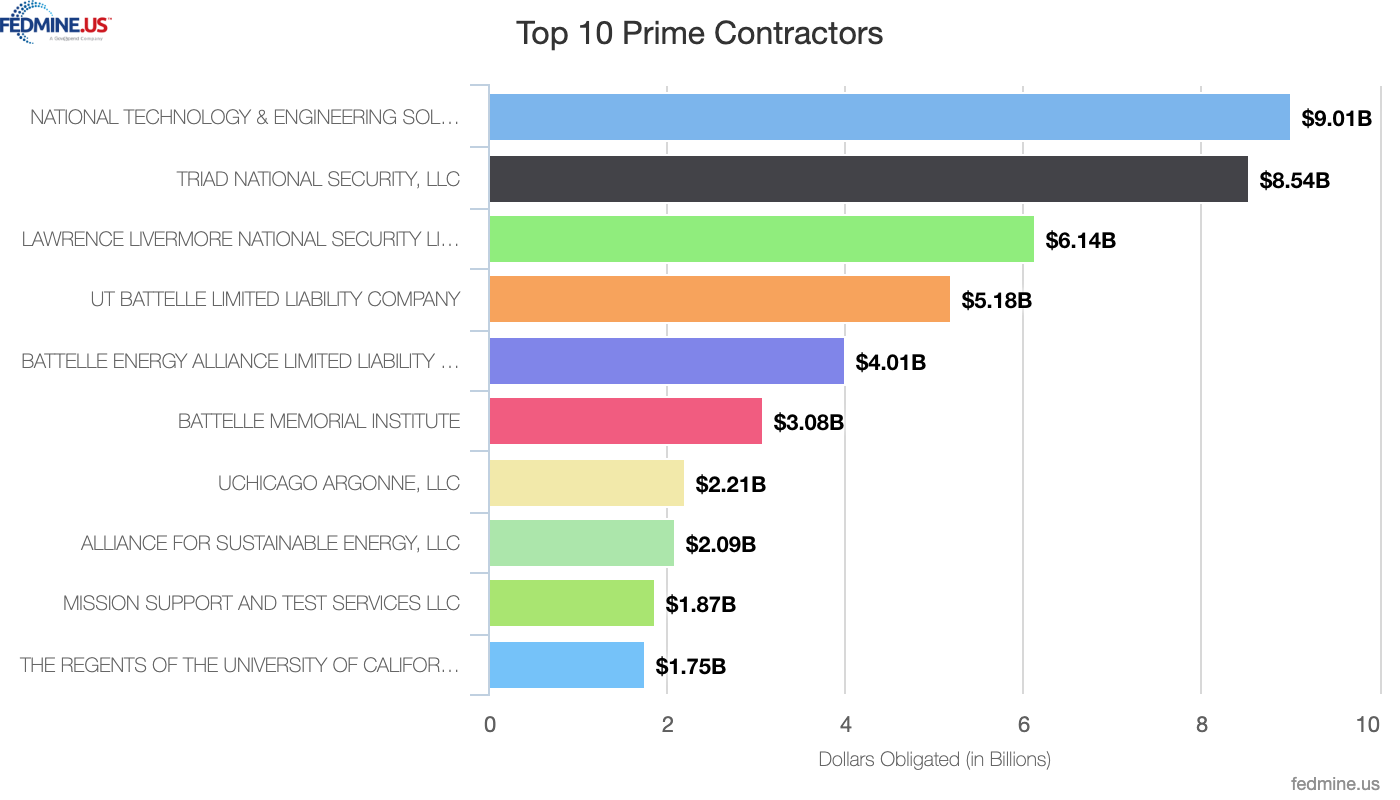 Top NAICS include those related to construction, facilities support, engineering and R&D.
Contracts awarded as Small Business
$4.4B has been awarded as small business contracts to 1,648 companies under the IIJA. The Top  Agencies include Dept of Transportation, Army, Environmental Protection Agency, Department of Commerce and Department of Interior.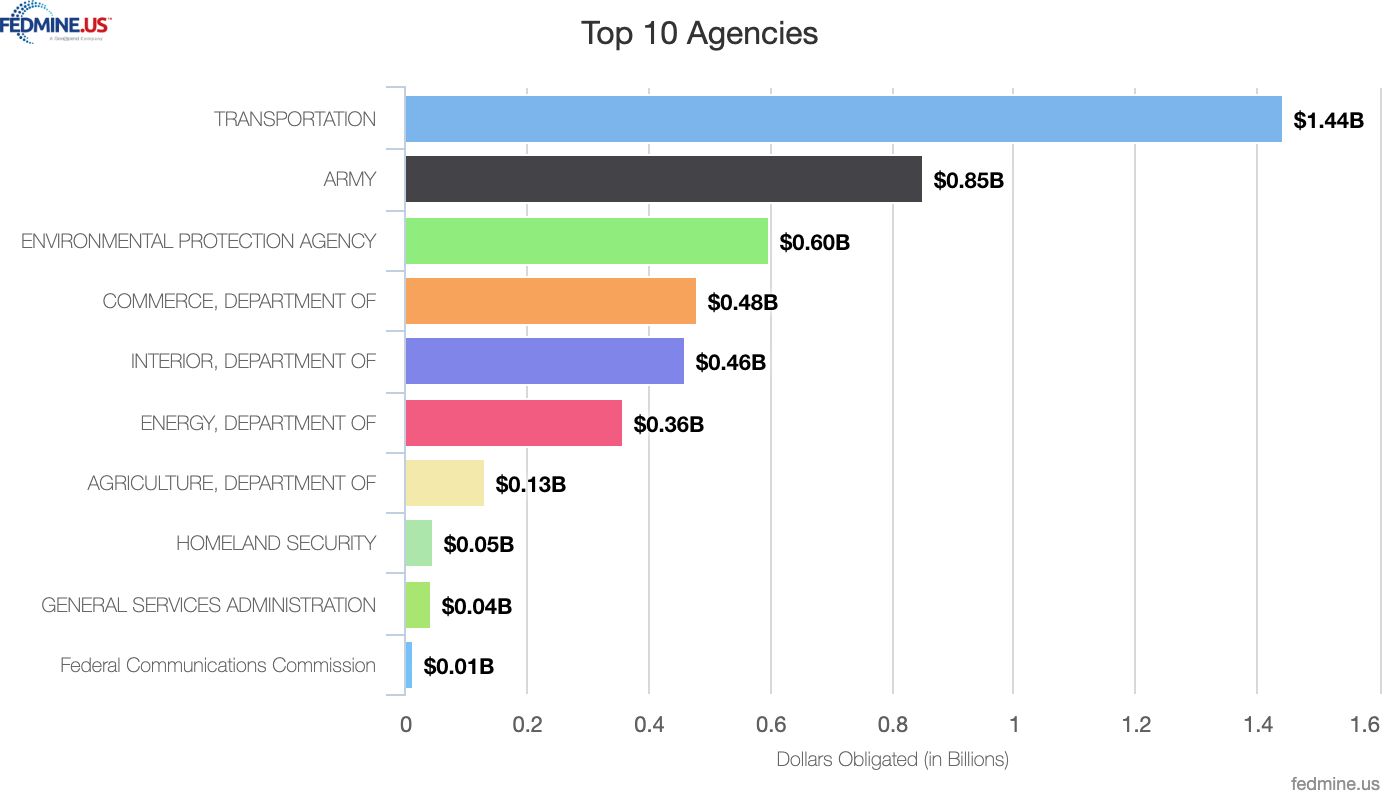 In terms of the top NAICS, construction related NAICS codes account for more than $1.4B.  Facilities Support Services account for $182M. Computer related NAICS account for more than $310M.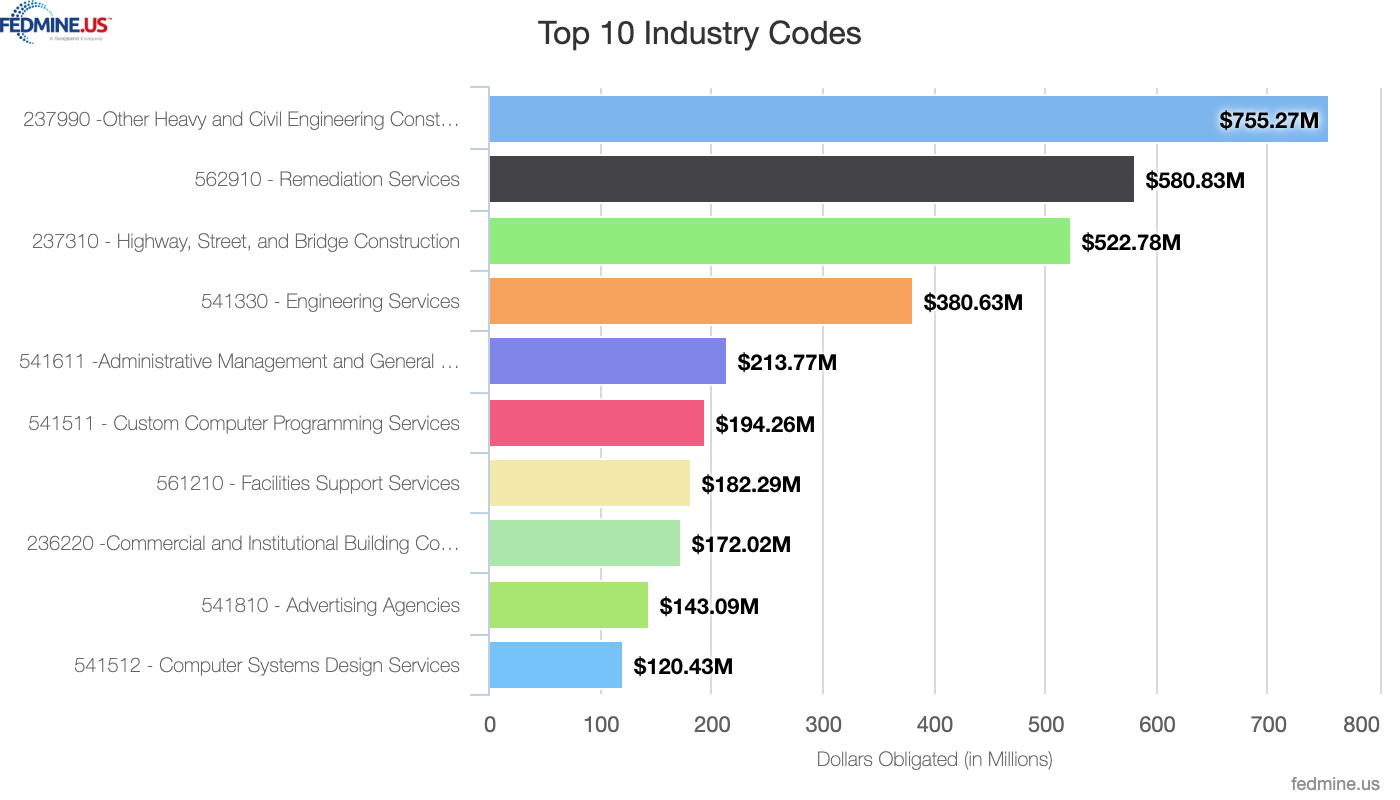 Top Companies include EA Engineering, NW construction, and Stratacomm LLC.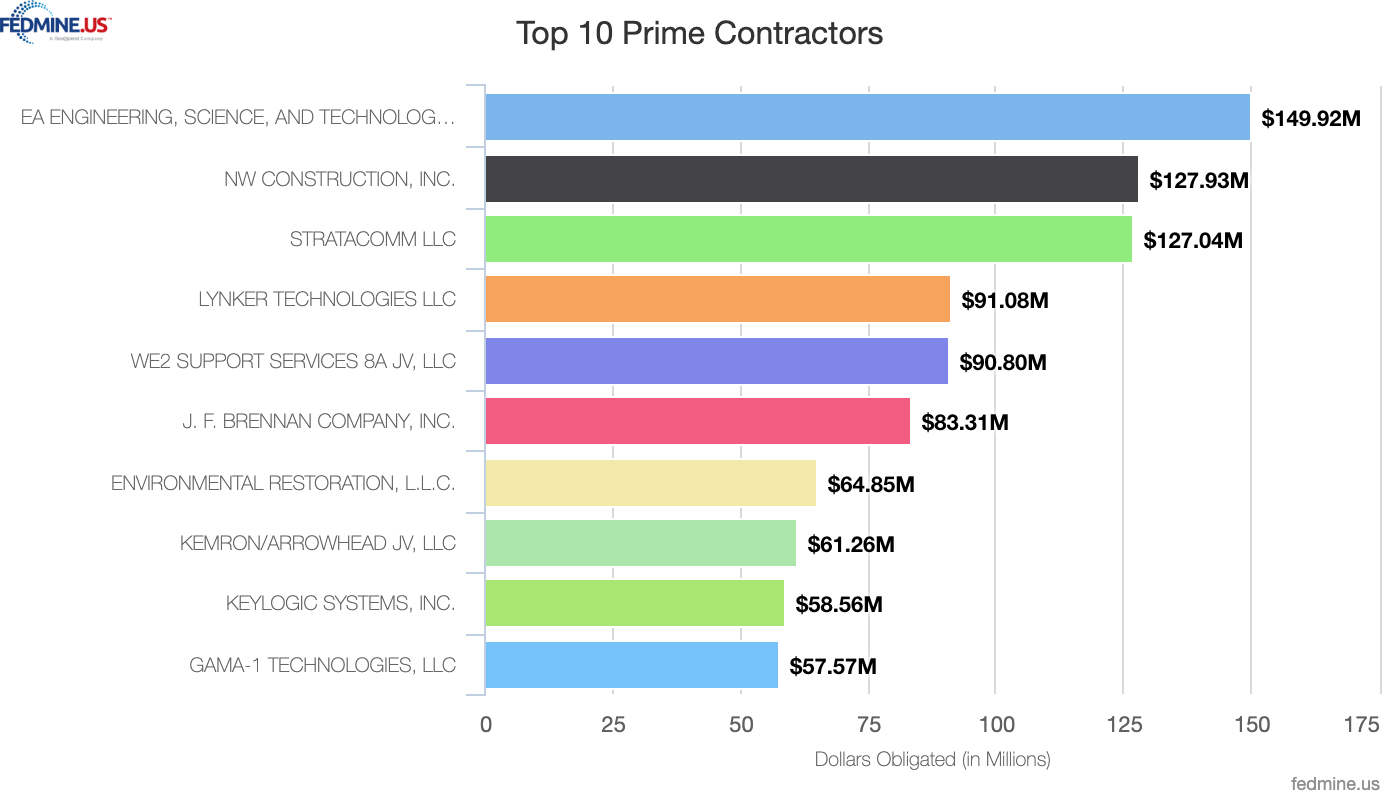 The locations where the contracts are being carried out encompass a diverse array of states such as DC, Maryland, California, Virginia, West Virginia, Oregon. In terms of set-asides, $1.4B of the awards were Small Business Set-Asides, $35M were awarded as 8(a) set-aside and 8(a) Competed. View the report on contracts awarded as small business here. We will continue reporting on the awards under the IIJA.  Unfortunately, there is no easy way to track the opportunities except by keywords.
Send me an email (amehan@govspend.com) if you are interested in learning more about how you can filter, analyze and track the contracts awarded by IIJA!  Stay tuned for our analysis on the grants awards.