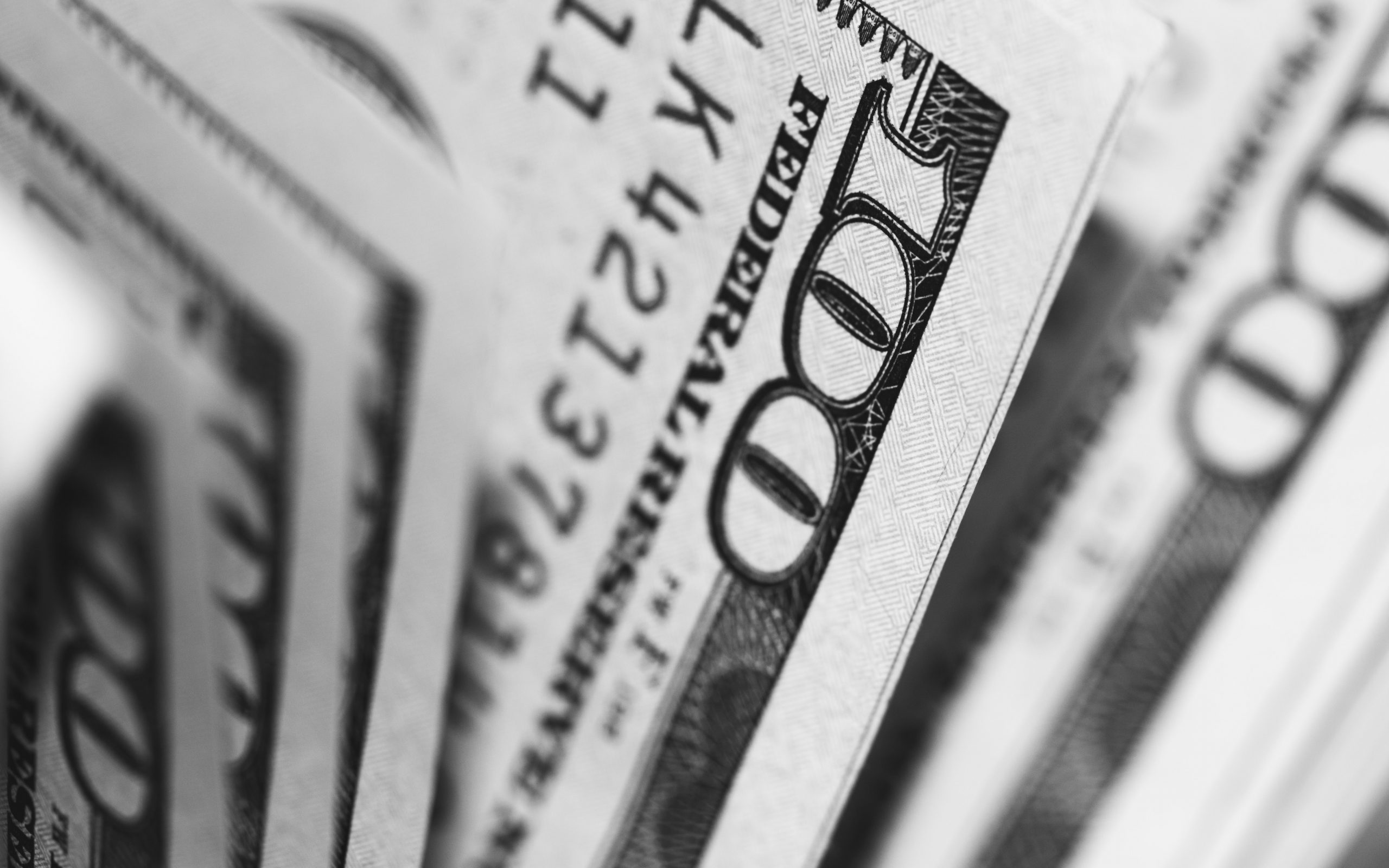 It is January 4th, 2023 – the start of the 2023 calendar year, but also the start of the Q2 of the Federal Government Fiscal Year 2023.  It is also the time for us to get understand the federal contracts awarded by the federal government in FY 22, now that the Dept of Defense numbers are made public.  (Note: DoD awards are subject to a 90-day delay before being made public)
The Congressional Budget Office, in its summary for fiscal year 2022, states the total outlay at $6,272B with a deficit of $1.375B.  In FY 22, Federal Contract Awards accounted for $690.85B, or a little more than 11% of the total outlay, and is the largest amount that the federal government has awarded in terms of contracts (more than the $686B that was awarded in FY 20, during the pandemic).  A total of 111,310 companies won contracts, down from 116,446 companies in FY 21.
Click here to see the Fedmine report for contracts awarded in FY 22.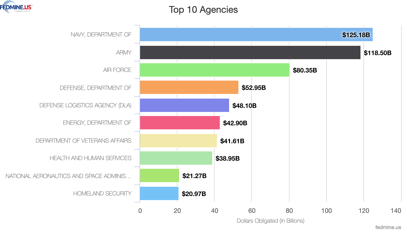 Overall, federal contracts awarded increased by $43.67B or 6.75% over FY 21.  Top Agencies include defense agencies, namely the Army, Navy, Defense Logistics Agency, Air Force and DoD.  However civilian agencies including the Dept. of Veterans Affairs, HHS, Homeland Security also make the top 10 list.
While most of the top 25 agencies in FY 22 have seen growth over FY 21, some agencies including the Departments of Army, Air Force, Treasury, Justice, Commerce, Labor and Education saw the spend decrease.  The US Small Business  Administration saw its contracts awarded fall to $660.8M in FY 22, a 42% fall from FY 21.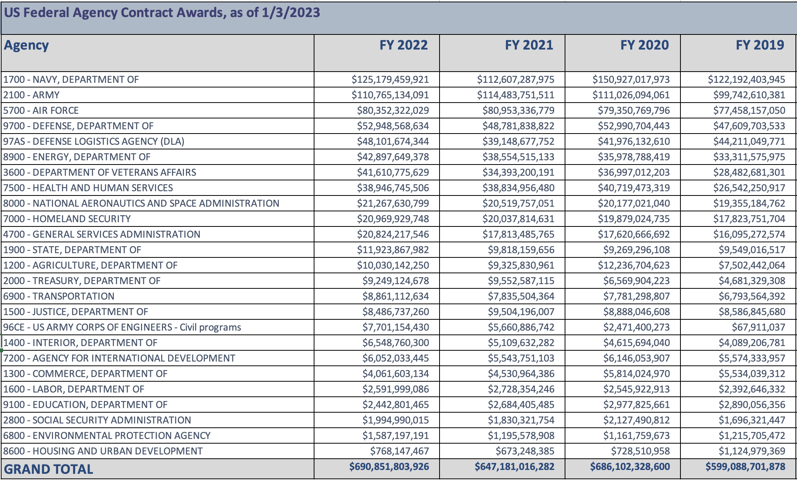 Data as of 1/3/2023,  Source Fedmine's Analysis of FPDS data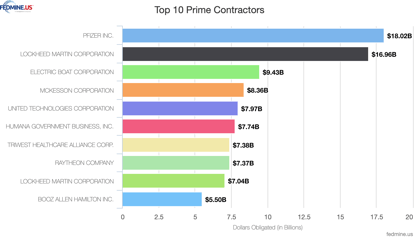 The top companies winning contracts in FY 22 include Pfizer, Lockheed Martin, Electric Boat and Mckesson, many of which were also the top companies in FY 21.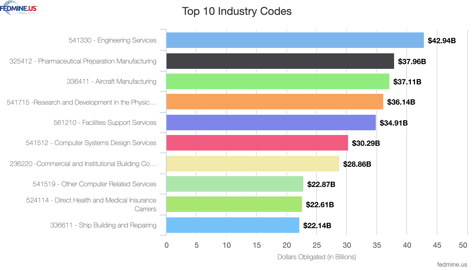 The top NAICS codes for FY 22 include Engineering Services, Construction, Pharmaceutical Manufacturing, R&D and Aircraft Manufacturing NAICS codes.
Many times I do like to look at spend by Categories, and then understand how contracts are awarded as small business (SB) or other than small business (OTSB).  Interesting to note that the top 5 categories, out of a total of 19 categories, account for 52% of the contracts awarded.

The above categories are based on GSA's classification of the categories based on the Product Service Codes.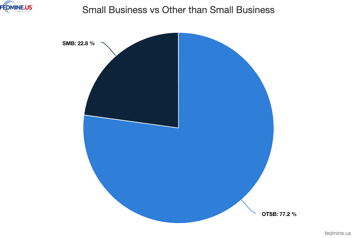 In terms of contracts awarded as small business contracts,22.8% of the contracts i.e. $155.2B were awarded to 80,358 companies as small business contracts which is based on the contracting officer's determination that the "awardee is a small business for this procurement".
Our top small businesses for FY 22 include Atlantic Diving Supply, IHealth Lab and Coins'N Things.  Congratulations to our two verified veteran owned businesses who made it to the top 10 businesses, Thundercat Technology and Four Points Technology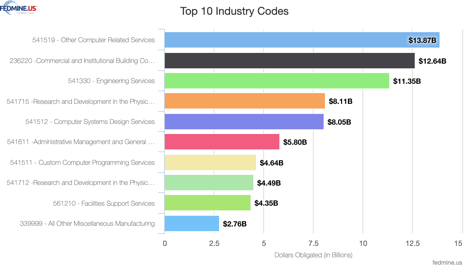 As you can see the NAICS codes are different for contracts awarded as small business with Computer related NAICS codes along with R&D and Construction/Engineering Services NAICS codes for our top 10 NAICS Codes.
In terms of set-asides, $28.19B were small business set-aside, $8.56B were 8(a) Sole Source and $7.19B were SDVOSB set aside.
Click here to see the report for FY 22 for contracts awarded as small business contracts.
Contracts awarded under the Covid-19 National Interest action code were $38.3B and was awarded to 4,128 companies with only 12% of the contracts being awarded as small business contracts.
With the administrations initiatives to promote small businesses in federal contracting, I hope we see not only a larger portion of the dollars being awarded to small businesses, but truly it would be amazing to see the number of companies winning business grow.
As always, if you have any questions or comments please send me an email at amehan@govspend.com