When inclement weather stands in the way of a just-in-time-for-opening medical furniture delivery, Custom Comfort Medtek stops at nothing to make sure the order arrives on time. In one recent instance, an on-time arrival meant loading up a truck and driving cross-country from Orlando, FL to Portland, OR.
More than thirty years of experience makes Custom Comfort Medtek a national leader in the field of specialty medical furniture ranging from blood donor chairs to exam tables, bariatric furniture, and medical recliners. Products are designed and manufactured at Custom Comfort's headquarters in sunny central Florida.
Continued Excellence Through GovSpend
In 2018, in an effort to leverage data for valuable business insights, Custom Comfort Medtek signed up for GovSpend, a company that tracks government purchases. Right from the start, Custom Comfort was easily able to find promising new leads, view competitors' sales and receive notifications of government bid opportunities. With the help of GovSpend's support team, the company was then able to derive valuable insights from available pertinent data and put this information to use.
GovSpend's marketing research enabled Custom Comfort to run campaigns for particular products based on historical purchase data. Here's how it works: Custom Comfort conducts searches using adjustable filter parameters to reveal relevant prospects and from whom they've purchased. The company then used the information to target campaigns in a more efficient way. For example, keyword searches for terms such as carts, sit/stand desks, and donor chairs returned significant usable data. The company also used the keyword function to find contacts for specific positions such as procurement, lab director/manager and purchasing manager.
Custom Comfort has also signed up for GovQuote, an e-quoting platform that simplifies the process of increasing the number of deals the company pursues. For instance, using GovQuote helped Custom Comfort win a contract for folding donor chairs with the New York Mental State office.
The Custom Comfort Medtek Solution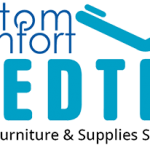 As a certified small business, Custom Comfort Medtek quickly responds to the needs and challenges of its customers. The majority of components and materials used in the production of its custom medical furniture are sourced domestically. Products are also assembled exclusively in the USA.
Custom Comfort Medtek is dedicated to providing the highest quality products and customer services at competitive prices in a courteous and timely manner. Visit www.customcomfort.com or call 800.749.0933 for more information.