This year is the 18th anniversary of the tragic events of September 11, 2001. A day many of us will never forget and which is forever memorialized in New York City. The memorial was planned in the immediate aftermath of the attacks. It was designed by architect Michael Arad of Handel Architects working with a landscape-architecture firm Peter Walker and Partners. 
The construction began in August of 2006 to create a forest of swamp white oak trees with two square reflecting pools in the center marking where the Twin Towers stood. Beneath the monument, is the underground museum with artifacts from September 11, 2001. The memorial and the museum were opened to the public on May 21, 2014.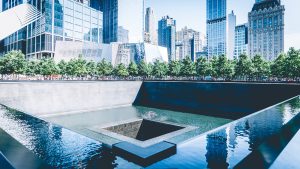 "Terrorist attacks can shake the foundations of our biggest buildings, but they cannot touch the foundation of America. These acts shattered steel, but they cannot dent the steel of American resolve." George W. Bush, sitting president at the time.
Memorials serve as testaments to the country's history, resilience, and natural beauty. This was a moment in history when everyone banded together and remembered what it meant to be an American. This monument is not the only marker in America's history, nor will it be the last. Near Honolulu, the USS Arizona Monument honors the 2,390 souls who died there on December 7, 1942. Washington D.C. has many memorials honoring many soldiers who gave their lives in World War I & II, the Vietnam War, the Korean War, the Civil War, and the Revolutionary War to name a few. 
A country is defined by its history, so on this day let us all take a moment to stop and remember this moment in our recent history. A day when we were hit, but we did not fall down or give up.